THANK YOU TO ALL OUR PATRONS! WE LOOK FORWARD TO SERVING YOU IN 2023 AND BEYOND.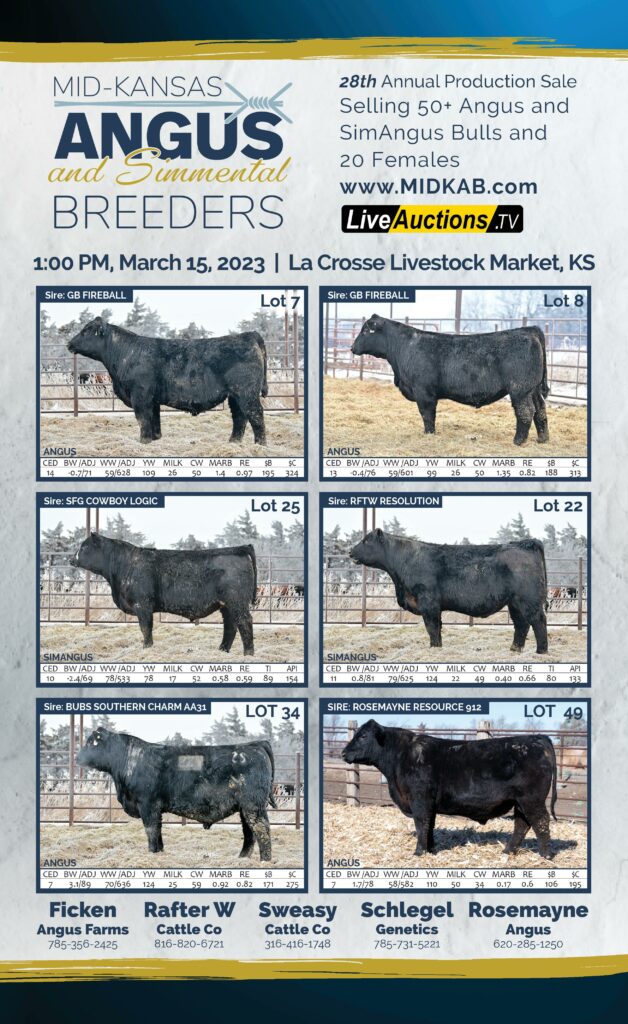 ---
2021 Sale Averages
Sale Bull Average $3414  |  13 Angus Bulls (18-24mo) $3108  |  27 Yearling Angus Bulls $3541
High Selling Angus (18-24mo) Lot 27 $4000, Lot 4 $3900  |  High Selling Angus Yearling Lot 46 $6200, Lot 34 $5500
Sim/Sim Angus 1 Bull (18-24mo) $3100  |  Sim/Sim Angus 3 Yearling Bulls $3000
High Selling Sim-Angus Yearling Bull Lot 50 $3700
18 Yearling Open Angus Heifers $993  |  3 Bred Angus Cows $1358  |  5 Angus Cow/Calf Pairs $1660
---
Mid-Kansas Angus Breeders (MIDKAB) produce high-quality Angus for purchase every year. Derrick Schlegel with Schlegel Angus, Craig Rucker with Rosemayne Angus, and John Ficken with Ficken Angus Farms offer a premier selection of bulls.
Although we have three different breeding programs represented, we all have the same goal of providing cattle that will work in any operation.
When we started the sale in 1996, we didn't really know what to expect. Calf prices were low and most of the experts were saying you couldn't make money in a cow-calf operation. But thanks to continuing support, the sale has improved and grown more successful and productive.
Our breeding programs all have the same goals: fertility, calving ease, above-average growth, good carcass values, strong maternal traits, good disposition, and moderate cow size.